GP Surgery Updates
A view of the new surgery. Please click link here
New Contract to run Frinton Road and Epping Close Surgeries
For those who have not heard the GP partners from Ranworth Surgery (Dr Farrukh Shamshad and Dr Saima Qurban) have won the tender to run both Frinton Road and Epping Close surgeries for the next five years. Green Elms in Jaywick is also part of same contract and we will be known collectively as Clacton Community Practices. Caradoc surgery in Frinton will also be run by the Ranworth partners but under a separate contract.
Move to Kennedy Way
The move to Kennedy Way is now scheduled for the early May bank holiday. Frinton Road surgery will move in first followed two weeks later by Epping Close. The two surgeries will merge. This might not be apparent from day one as some IT operational issues need to be resolved. The combined surgeries will be known as Kennedy Way Medical Centre. The new surgery will have several consulting rooms, treatment rooms and a dedicated phlebotomy room. This will allow for extra services to be offered. There will also be a digital suite which will be available for patients to have online consultations with hospital consultants when appropriate plus iPads will be available for patient use.
In addition to the above there will be a meetings room available. This can be used for clinics, general education purposes and patient meetings. This will be attached to the staff rest area which allows for the provision of refreshments. The move will happen over a weekend. Patients will receive a letter from the surgery to tell them when the move will occur.
Staffing
The partners are keen to recruit salaried staff rather than relying on locums. We will therefore have four salaried GPs when we open in March. Dr Carlos Knoor, Dr Lobna Meleeka, Dr Paula Chilvers and Dr Faiza Murad. Dr Knoor is also a GP Trainer and we hopefully will benefit from the presence of GP Registrars throughout the year. We will still have access to the current nursing, paramedic and clinical pharmacist staff as well as a psychiatric nurse and a care co-ordinator (who will both start in March).
Prescriptions
In order to facilitate the move any patient needing a medication review up to the end of March will have their review dates extended automatically. Please check the top of your prescription where it states the current review date. The issue of how patients from Frinton Road can apply for repeat prescriptions (if not on-line) is still under review. Possibilities include extending the use of the existing box outside Frinton Road surgery (although the building will no longer belong to the Practice) or using a dedicated phone line. The letter from the surgery will confirm the details.
Car Parking
There is a car park for use by patients opposite the surgery entrance. There are also dedicated disabled bays outside the surgery. There will be double yellow lines to stop people parking on the road and dropped kerbs for buggies and wheelchairs.
Social Prescribing Project
The central part of the car park (currently waste land) will be refurbished. The NHS Property Services (NHSPS) have allocated a sum of money for this "Social Prescribing" project. (See attached plan). The project itself will be managed by CVS Tendring, and they will also have a presence within the surgery for help and support. It is not going to be possible to finish all of the work by the time the new surgery opens but it is hoped to get the pathways in and some sort of sheds (probably building container types for at least the time being). The planned modular building is likely to be far too expensive, something smaller will be provided at some future point. The gym area was deemed essential and hopefully will be available from day one.
The "men's shed" is actually meant to be a repairs and skills exchange area. It will be open to all.
This project will benefit the whole area not just the surgery patients.
Transport
For those unable to get to the new surgery arrangements have been made with the Community Voluntary Services to provide a bookable service in one of their buses. The service is free for bus pass holders. The buses are Covid safe and are sanitised and cleaned throughout the day. The number to phone to book this service is 01255 436962
COVID – 19
As most of you will be aware Frinton Road Surgery have had a number of positive cases in the last few weeks and it was necessary to close it for some time. Care was still being provided by staff at Green Elms and the phones were automatically transferred to them. During this time clearly staffing has been extremely difficult and we should thank the staff for their hard work in very difficult circumstances.
Vaccinations
All vaccinations for patients at Clacton Community Practices are being carried out at the St Helena Hospice site in Clacton under the leadership of Dr Shamshad. The surgeries themselves are hopefully going to start vaccinating patients soon. If you have received a letter from the National Centre and can't get to any of the ridiculous options offered, Don't Panic. You will be contacted by the local organisers and offered a local appointment. This is correct at time of writing.
There is transport available (free to those with a bus pass) to the site in Clacton which can be arranged by phoning 01255 436962.
Rita Garnett
Frinton Road Surgery Rep.
Surgery Move to Kennedy Way
13th October
On Tuesday this week Dave and I had two site meetings at Kennedy Way.
In the morning we had a site tour of the new premises; hard hats, hi-vis jackets and socially distanced. We viewed the entire complex. The surgery is coming on a pace. The rooms have all been constructed, stud walls are up and currently being plastered. As all the consultation rooms have external walls with windows they are light and airy and a good size. Indeed, the whole area is huge compared to what we are used to. The new conference room which will be used for training, clinics and community projects is attached to the staff kitchen area so teas and coffees will be available. Although there is still a lot of work to do everything now seems real. The builders are currently on track to finish in March next year.
In the afternoon, despite the pouring rain we met with the NHS Property Services (NHSPS) representative and two members of the Tendring Community Voluntary Service (TCVS) to discuss possible uses for the central area of the car park. The TCVS had several ideas for its use including a small garden, a community allotment area and possibly even an outdoor gym area. They are confident they have the volunteers to get it off the ground (excuse the pun) and others will always be welcome. They told us that they have bus facilities to get people from Holland to the site.
The NHSPS representative and the TCVS were keen to see the space used as part of the "Social Prescribing" scheme. The NHSPS will provide some funding to secure the site and possibly build some kind of shelter / storage facilities. The TCVS also intend to visit the surgery on a regular basis to offer support and inform patients of what is available in the Community.
Rita Garnett
15th October 2020
************************************************************************************************************************************************
Below is an update from committee member Rita Garnett on the situation regarding the Frinton Road Surgery.
Yesterday Dave and I joined a project board meeting for the move to Kennedy Way.
The car park is now complete except for signage. There are wide bays, ample lighting and a separate in and out system. The central area has been flattened and the NHS Property Services (NHSPS) are in talks with Tendring CVS with regard to landscaping.
We raised questions about whether it would be locked at night (to stop "boy racers") and made them aware that we suffer from an influx of "travellers" every year and this may be an issue. They were aware of the potential problems. As ACE still currently have access to the car park it is a shared facility and NHSPS are discussing with them how best to manage it on a day-to-day basis.
The builders have now started work inside and have apparently made such a good start that they are almost ready to build internal walls. The only snag, at the moment, is the amount of cabling that is literally coming out of the woodwork. They need to work out which is "live" and which can be pulled out and to that end they will be getting their electrical contactors and BT in to survey.
The proposed finish date is 5th March 2021.
Rita
19th August 2020
*************************************************************************************************************************************************************************
FRINTON ROAD SURGERY RELOCATION
Plans for the relocation of Frinton Road Surgery to the newly converted site in Kennedy House, Kennedy Way, Clacton are well advanced. The new premises will provide accommodation for two GP practices which will operate as part of Clacton Community Practices, Epping Close Surgery (already located on the site) and Frinton Road surgery which is currently located in Holland-on-Sea approximately one mile away.
The conversion will see a first class, fit for purpose facility for the patients of Clacton Community Practices and on completion of the works, the space vacated by Epping Close surgery in the adjoining renal dialysis unit will enable expansion of community renal dialysis capacity (from 8 to 12 stations).
Plans for the scheme were approved by HM Treasury in December 2019.
It is expected the programme of works will take 28 weeks and current anticipated completion is winter 2020/21. The current expected relocation is late winter/early Spring 2021, dependent on delays with construction because of COVID-19.
North East Essex CCG and Clacton Community Practices are working together to ensure the facility meets the needs of its patients. The site will be designed to be dementia friendly with full Disability Discrimination Act (DDA) compliance and will include the very latest digital technology to improve access and patient experience.
January 2020
Below is an update from committee member Rita Garnett on the situation regarding the Frinton Road Surgery. Rita attended a meeting on 16th January 2020 with representatives from Ranworth Surgery the outcome of which is detailed in the report. I was going to send the report as an attachment but am aware some of you have, in the past, had difficulty opening attachments. I have therefore copied it in full below.
PLEASE NOTE THAT LETTERS EXPLAINING ALL THE CHANGES WILL BE SENT TO ALL PATIENTS IN DUE COURSE. I AM UNABLE TO PROVIDE ANY FURTHER INFORMATION.
Don't forget the next public meeting is on Monday 27th January at 2pm.
Kind regards
Tony Rulten
Secretary
Frinton Road Surgery
On Thursday 3 members of the Patient group attended a meeting at Ranworth Surgery with Dr Ferrukh Shamshad, his partner Dr Saima Qurban, Oge Chesa (CCG) Lisa Maddox (new Practice Manager) and Jo Rockall (outgoing temp. Practice Manager).
The CCG has awarded a one year "caretaker" contract to Ranworth to run the 3 remaining ACE surgeries. This will take effect from 3rd February. There is one combined contract for the 3 surgeries and for simplicity they will be called the ACE practices. ACE will have NO part in the running. Letters will be sent to all patients to explain the changes.
New System
It is expected that the majority of staff will remain working across Frinton Road and Epping Close as before. Dr Choudry will be leaving at the end of January (she is moving house and it will be too far to travel to Holland). Dr Maleeka is staying, Dr Mohammed Abu Saido will still work 2 days and other long-term locums are being lined up.
Dr Shamshad is keen to keep as much as possible to the same procedures currently operated. The exception is the appointment system. The Hub will close. The system will run exactly as it is at Ranworth and Caradoc. Patients should phone for a GP appointment between 8 and 10. The receptionist will ask a couple of simple questions to establish urgency. Patients will then be put on a triage list and a GP or Clinician will phone them back. They will then decide if an appointment is required with a GP or with another Clinician or Pharmacist. It is intended that those using the on-line system will be able to put themselves on the list from midnight, so they do not have to phone. Anyone who puts themselves on the list between 8 and 10 WILL be contacted so it is not necessary to phone dead on 8.
GP appointments can not be booked at the surgery.
All other appointments nurse, pharmacist etc can be booked at the surgery or by phone.
The Future
This contract is for one year. During that year the CCG will prepare a specification for running the surgeries which will then go out to tender.
Meanwhile the move to Kennedy Way is still progressing. We were told that the Treasury had now approved the funding. Work will now be carried out to establish how the building will be shared with ACE.
Rita Garnett
HRA - Health and Wellbeing
19th January 2020
Updates 2019
Frinton Road Surgery
Last week Dave and I with members from Green Elms Patient Group met with Frank Sims (the new Chief Executive of ACE), Tom Booth (the new Primary Care Business Manager) and Nikki Smith (the Lead Nurse). We discussed what action ACE are taking to persuade the Clinical Commissioning Group (CCG) that they should retain the contract for the three remaining surgeries.
We were pleased with the business-like manner all three portrayed. It was clear that they had done a massive amount of work to discover the underlying problems and to rectify those issues. They demonstrated that real progress was being made although they recognised that further work was necessary. They have revamped the appointment system to allow more appointments to be readily available and to ensure that patients are not being asked to ring back the following day. A triage system is in place whereby if a patient needs an appointment, on the day, and they have already been allocated then the patient will be telephoned by a clinician who will assess and, if necessary, arrange an appointment that day. It is also now possible to pre-book appointments more readily. Telephone waiting times have reduced greatly with about 80% of calls being dealt with in under 5 minutes. The majority of early morning calls now get straight through without waiting many minutes with the engaged tone. Clearly these changes have only just been introduced and will take time to bed in. They are being monitored daily and if required will be amended. Prescriptions is still "work in progress" but there should be appointments available for reviews which can be booked at the surgery.
Denise Raven the Practice Manager has now left as has the lead GP Dr Raja. As a result, ACE have now recruited two professional Practice Managers one for Frinton Road/ Epping Close and one for Green Elms. The Frinton Road Manager will start in early December and has 20 years' experience of running a surgery. This is something we have been asking for for a long time. In the meantime, Joanne Rockall is covering the Practice Manager post at Frinton Road assisted by Tina Salmon.
Given the amount of work already achieved we are optimistic that this team can turn the surgeries around and make them successful. The Green Elms team share our view. To that end I have written to the CCG to ask that they consider giving ACE more time to continue their improvements.
We also discussed with Nikki Smith the way the flu clinics are carried out. There will be changes for next year. In the meantime, appointments are still available which can be booked at the surgery or via the hub. The next one is on the 23rd November.
Work has almost been completed on the upstairs of Kennedy House to enable the ground floor to be revamped to accommodate the two surgeries. Work on resurfacing the car park has STARTED. Watch this space.
Rita Garnett
19th November 2019
Earlier Updates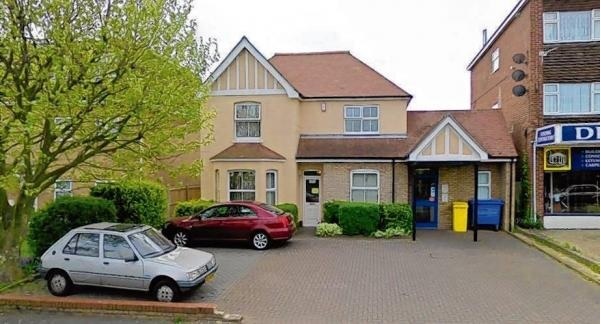 Below is a copy of the recent letter sent to Mr A. Geddes (NHS England) together with his responses.
Sent: 21 April 2016 13:45
To: Geddes Andrew (NHS ENGLAND)
Reply dated 27th April
Subject: Frinton Road Surgery
Andrew,
Thank you for your recent email.
We had a PPG meeting on Tuesday and several issues were raised.
We are uncertain of your precise role, are you managing a transition of three surgeries into a hub at Kennedy Way or just facilitating the move of the two ACE surgeries? Who is your ACE contact?
AG - My role is to Project Manage work around the option of providing the 3 GP surgeries identified into Kennedy House. Julie Goddard is the ACE representative on the project.
We attended a workshop meeting in January 2015 the outcome of which was that a three surgery hub was the preferred option and the business case was being developed around that. We were also told by NHS England (Jenni Speller) that the financial case was well underway and would be completed by the end of March 2015. This involved the setting up of teams to look at specific areas of work. It would seem that we are now duplicating the work that was previously carried out. Is this the case? If it is, this is the third time in the four years that our PPG has been in existence, that such work has been duplicated. (The proposed move from Frinton Road has been around for more than fifteen years).
AG - I understand the preferred option identified in that work last year was to include 3 surgeries at Kennedy House. This remains the preferred option and is not being revisited or duplicated.
Assuming a hub is still the preferred option and given the question mark over the move of the North Road surgery are you still planning appropriate space allocations for three surgeries and the associated extra facilities generated by a hub?
AG – the CCG have identified Kennedy house as a potential Primary Care 'spoke' (Hubs will be much larger with more hospital outpatient, diagnostic etc services) GP space is being assessed for the practices.
If you are now only looking at the two ACE surgeries will the business case still be robust? If this is the case then it would be sensible in our view to merge the two surgeries. They currently share staff and patients from Frinton Road can attend some clinical facilities at Kennedy Way (Epping Close). We cannot accept that any contractual difficulties are impossible to overcome.
AG – I am working with ACE on their GP requirements.
Notwithstanding issues of hubs and mergers it is still our view that given the unsatisfactory state of Frinton Road surgery and its lack of space it should be relocated to Kennedy Way.
The two main areas of concern for the patients, especially those that live in in the Holland area, are the absence of a bus service to Kennedy Way and the state of the current car park. We understand that the plan is to refurbish the car park to make extra spaces. As there seems to be some doubt over the ownership of the car park is this still the plan? Is someone looking at the problem of the buses? Whatever final plans emerge if you want the patients to be happy then these issues need to be addressed and solved.
AG – the patient concerns are understood and these will be given consideration as the project develops.
If you could attend our meeting on 9th August at 10 am Room A Kennedy Way, we would be pleased to see you. We would also be happy to meet up or discuss issues by phone or email in the interim.
AG – I will put it in my diary.
Regards
Rita Garnett
Chair Frinton Road PPG
---
THE SURGERY
19/11/2015
The following information has been provided by an official of NHS England.
There are currently no plans to build a new surgery in Holland-on-Sea. In line with NHS England's Primary Care Strategy, the preferred option is to permanently co-locate three practices into the Kennedy Way site in Clacton. This would include the Great Clacton surgery, Epping Close and Frinton Road GP practices.
A business case is currently being developed which will become an integral part of the full business case to provide GP and some community services from The Kennedy Way site as a hub. At present NHS England is in early discussion with senior members of the provider organisations and we will be involving the three GP practices and their respective Patient Participation Groups and other local stakeholders as this work progresses.
---
The Surgery
Update October 2015
At the October 2015 Quarterly Meeting, Mrs Rita Garnett, Chair of the Frinton Road Surgery User Group, reported that the group had been advised that there is now no possibility of a new surgery for Holland. The only option now under consideration is an amalgamation with the existing surgery in Kennedy Way. No information is yet available as to when, or indeed if, this might actually take place.
Position February 2015
A meeting of the Frinton Road Surgery User Group was held on 17th February 2015. The group learned that a new doctor from Ranworth Surgery is now working on Mondays on a permanent basis and Dr Ahmad Al-Zuhairy has agreed to stay on at the surgery on a permanent locum" basis. However, Dr Benish Shoaib is still due to leave at the end of February and a recent recruitment advertisement has failed to produce any suitable candidates.
On the subject of a new surgery, the group were advised that current thinking by the Clinical Commissioning Group is to move to "hub" surgeries of 15,000+ patients on one site. This would enable the sharing of facilities and economies of scale. Consequently, a new surgery in Ipswich Road was deemed inappropriate and there would also be insufficient space to meet any expansion of demand over the next ten years.
The favoured option is for the current Frinton Road, Epping Way and North Road surgeries all relocating to the ground floor of the premises at Kennedy Way. The surgeries would remain independent of each other but extra facilities could be provided by the move and shared by them all.
This proposal is subject to financial approval by NHS England and this approval would need to be given before the middle of March or the impending re-organisation of NHS England and the May General Election would prevent any further action for several months.
Position January 2015
Ian Stidson, director of commissioning for NHS England's Essex Area Team, has recently told a Tendring DC committee that plans for a new surgery are moving forward. He said progression was on the back of the reorganisation of NHS England and it had maintained it's commitment to the development of a new surgery by identifying funds over a five-year plan.
Mr Stidson added the original option of the Ipswich Road site and the development at Kennedy Way, which is more advanced, were both being considered to determine which would be the most suitable. He advised that a full financial analysis appraisal of both sites was due for completion and residents would be advised which of the two sites would be the best option for a GP surgery.
Position December 2014
A meeting of the Frinton Road Patient Participation Group was held on 16th December 2014. It was reported that the recent experiment with open morning surgeries had been a great success and has been extended to 5 days a week. Furthermore, pressure on Nurse services has eased since the Healthcare Assistant increased her hours.
However, both Dr Ahmed Al Zahairy and Dr Benish Shoib have tendered their resignations and will be leaving in March. Recruitment for replacements will be commenced in the new year.
The provision of a new surgery remains unresolved. A planned meeting of interested parties was cancelled and rescheduled for 20th January 2015. Under current consideration are a new purpose-built surgery in Ipswich Road or a relocation to Kennedy Way.
Position November 2014
No further information has been received on the proposed new surgery, but a meeting is due to be held at 7.30pm on Monday 17th November at the Weeley council offices and residents are allowed to attend. The Director of Commissioning, NHS is scheduled to attend and advise on the current position.
Position August 2014
Despite requests to NHS England for an update on the proposed new surgery, no information has been forthcoming. A meeting has been arranged between the Practice Manager, ACE and Realise Health to discuss the situation.
A workshop involving GPs, Practice Manager and ACE is due to take place on 4th September to discuss the current appointments system and to consider other options.
Although a new GP is due to start on 1st September, one of the current GPs has been seconded to Clacton Hospital to head the Rapid Response team. It is hoped this will be of short duration. A new Matron has been recruited to replace the one who recently retired. However, the Nurse Practitioner has left, leaving the surgery short staffed at present. It is hoped that the nurse currently on maternity leave will be returning for one day a week shortly to help ease the situation. A review of staffing will take place fortnightly.
These staff shortages have resulted in the recently implemented twice weekly blood testing sessions being cut to one session per week. Appointments can still be made at Reckitts House. All blood test results are being properly monitored and if any problems are detected, appropriate action will be taken. This is important to note in view of the current difficulties in making general appointments.
Position July 2014
The position regarding the new surgery remains unchanged. Talks are on-going with Realise Health Ltd. In the meantime some renovation work is to be carried out at the existing surgery including repainting and recarpeting and money has been earmarked for this.
Options are being considered to improve the appointments system and a new permanent GP is to join the surgery in September.
All surgeries are now required to offer an in-house service for the collection of blood samples and two phlebotanists are being trained to facilitate this. At present blood testing is carried out at Reckitts House at Clacton Hospital and the Epping Close surgery (both by appointment only). Telephone numbers are available at reception.
Position April 2014
Realise Health Ltd. has been appointed to deal with the procurement and project management of the scheme to provide new premises at the Ipswich Road site. It will be the job of Realise Health to find a developer and, once built, the money is in place to pay for the rent for the next several years.
Position July 2012 In 2002 the PCT had enough budget set aside for a new surgery for Holland to replace the outdated, cramped converted old private house in Frinton Road. In August last year we were informed the money has now gone elsewhere and we are still without a decent surgery.